Where does my food come from? If you can answer this increasingly popular consumer question, you're well on your way to establishing trust with your customers and reaping the associated benefits.
Providing that level of transparency requires an intimate knowledge of where food originates and how it's handled. This is why the farmer has become a symbol of trust in the food industry — the one that grows, nurtures, and provides our food.
Each year we harvest and produce millions of pounds of fresh herbs and vegetables here at Van Drunen Farms. But we don't simply harvest and pass the crop off to the next in a long line of processors.
We grow, process, and partner strategically with customers to best utilize the ingredients that come from our fields. We are vertically integrated producers of IQF herbs and vegetables, from farm to application innovation.
IQF herbs
Individually quick freezing (IQF) technology has become the standard for freezing in our industry. We've embraced this technology as a means of preserving freshness and nutritional value for finished applications.
We also freeze-dry some of the herbs and vegetables we grow, which goes one step further to dry the product while still retaining its look and taste. The image below depicts various finished kale products.
Here's a shortlist of finished IQF products that we both grow and process:
Spearmint

Purslane

Parsley

Kale

Green Onion

Dill

Collards

Cilantro
Chives
Basil
Before we dive into the technology of IQF itself, let's take a look at where these frozen ingredients originate and how they are handled all the way from the field to the finished product.
From the ground up
At our headquarters in Momence, we grow a total of about 1,160 acres of specialty crop, and over 360 of those are certified organic. All of Van Drunen Farms' finished IQF herbs can be traced back to the fields they came from.
"Consumers are looking for transparency of the supply chain. We have the advantage where we can grow these on our own farm, do our own processing, and provide product to our customer that we can control from the seed to the finished product." – Jeff Van Drunen, President
Our team of agronomists carefully consider the right seed types for our climate — from environmental factors to soil types
Our farmers also soil-sample and tissue-sample to make sure the crops receive the fertilizer they need throughout the growing process.
When it comes to harvest time, the farmers trim the top few inches to harvest the best part of the plant and to help it re-grow faster for the second, third, and fourth cuts.
Because we can get several cuts on our fields, harvest season lasts for months and overlaps with planting and planning seasons. This infographic outlines a general timetable for our major crops: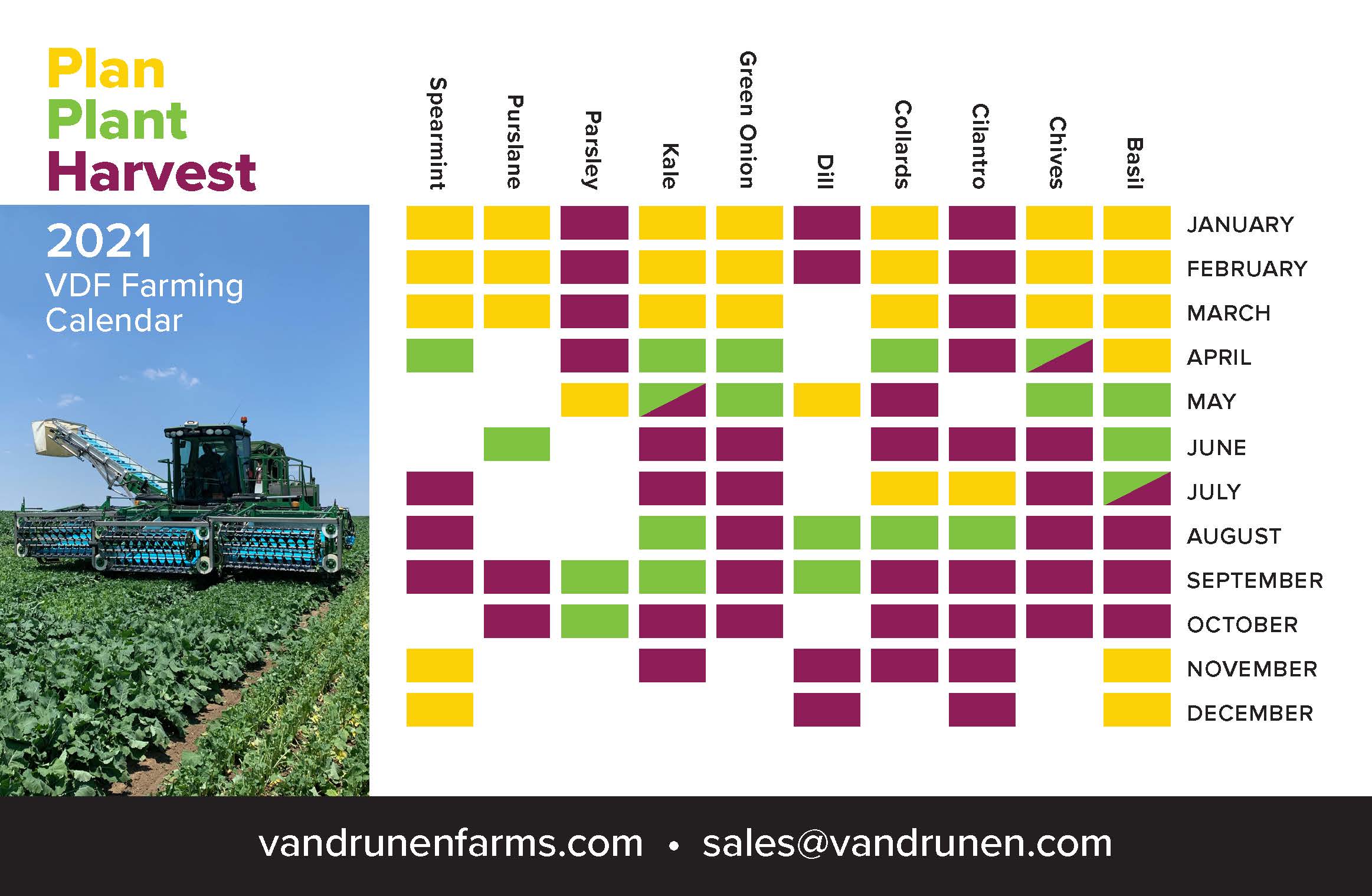 We harvest around the clock, 6 days a week to stay on track to keep products moving through our processing plant.
IQF processing: Keeping it fresh
We schedule harvest and processing times in alignment with customer demand so that we can process everything within 24 hours of harvest, locking in nutrients at the peak of freshness. Because the process works so quickly, IQF ingredients can also be termed fresh frozen ingredients.
In fact, the American Frozen Food Institute (AFFI) maintains that freezing is "nature's pause button," keeping frozen food nutritious, accessible, and safe. Recent studies, including one study from the University of Georgia, have found that frozen food can often be as nutritious as its fresh counterpart.
Our process
Harvested herbs leave our fields in large wagons. Onsite at the processing facility, they are placed under sprayers that fill each wagon with water, uniformly distributing the harvested product throughout the wagon and cooling it down from the heat of the sun.
Next, the product is pulled from the wagons and tossed to rid the herbs of any extraneous material.
The herbs then move through a washing tank and over to a shaker table to remove excess moisture. From there, they are spread evenly across a conveyer belt. They are moved slowly through a deep freezer at sub-zero temperatures and finally packaged for final shipment.
Because the material is spread evenly and frozen so quickly, each piece is individually frozen, avoiding frozen chunks of products that are nearly impossible to work with.
Watch our process from start to finish.
The big picture
IQF herbs and vegetables end up in a variety of finished applications, showing up anywhere from a pizza topping in a grocery store freezer to a salad in a quick-serve restaurant.
Individually quick frozen ingredients are easy to handle, and they add great flavor with the nutrition of real food to finished applications.
Controlling the quality from the seed to the end application — and being able to trace frozen ingredients back to the field — provides a level of transparency that builds trust with your consumers.
Discover how IQF herbs and vegetables can improve your unique application. Let's talk!