The new year is here, and for many people, that means new year's resolutions are here too! From addressing their habits, relationships, health, and more, millions of consumers are resolving to make changes that improve their lives. 
Often, consumers turn to products and technology to help achieve their well-being improvement goals. This means market trends quickly change as people search for new ways to meet their needs. 
If you're anything like us, keeping up with changing trends can feel like a full-time job! Yet, we know that tapping into nutrition and food trends is critical to creating successful products that resonate with consumers.  
To help you keep track of the 2022 trends, we've done the research and compiled a top ten nutrition and food trends guide you can use all year long.
Here's your list of top ten nutrition and food trends to watch in 2022!
1. Living a long, healthy life is a top priority
As consumers have grappled with the consequences of the pandemic, they have concluded that not only is living a long life a priority, but also living a healthy life. According to Natural Grocers, consumers will be looking for ways to support their healthy lifestyles through food, activity, and supplements.
2. Plant-based food and functional ingredients continue to win
The rise of plant-based food options and alternatives will continue in 2022 as consumers search for healthier products for themselves and for the planet. The Natural Restaurant Association also predicts that restaurant and foodservice chefs will include more functional, plant-based ingredients in their menu offerings this year.
3. Immune support is now part of our daily routines
While the pandemic highlighted the importance of a healthy immune system, consumers now realize immune health support must be ongoing. To proactively care for their long-term health, consumers will be searching for natural products that address immune health support along with other health concerns.
4. The search is on for healthy snacks and sensible indulgence
Over the last two years, consumers have developed new snacking habits. During the early months of the pandemic, demand for comfort snacks surged. However, as consumers intensify their pursuit of a healthy lifestyle, they will be searching for more nutritious snacks in 2022. Consumers still believe they deserve a treat now and then but will be looking for sensible indulgences in line with their health goals.
5. Herbs + Spices = Flavor + Function
Natural Grocers predicts that in 2022, consumers will be looking to herbs and spices to provide flavor and nutritional function to their food. For example, Whole Foods added turmeric to its 2022 top trends list, predicting that more packaged foods containing this "golden spice" will be popular next year.
6. Technology, meet nutrition
Technology has spurred innovative solutions to accomplishing many of our daily activities, including how we approach and plan for our nutritional needs. From innovative food processing methods to nutrition-focused apps, product developers can use technology to educate consumers and help them meet and track their nutritional goals.
7. Upcycled and sustainable products will be superstars
As consumers work to improve their personal health, they also realize the planet's health must be a collective top priority. According to Innova Market Insights, reducing waste and using sustainable production practices will resonate with consumers in 2022. Product developers who find innovative ways to reduce food waste through upcycling can tap into this growing trend.
8. We're ready for exciting experiences and adventure
After months of lockdowns, stress, and isolation, people are appreciating experiences and adventure more than ever before. According to Mintel1, brands can tap into this trend by offering consumers new ways to enjoy their everyday routines through innovative beauty and food products.
9. Our pet's health matters too
As consumers search for ways to improve their health and wellness, they're also making sure ALL the family members have what they need to stay well. In 2022, shoppers will be searching for allergen-free pet products that can support their pets' anxiety, digestion, and joint health concerns.
10. Brands that care connect with consumers
In 2022, buyers will be looking for products from brands that reflect their own lifestyles and values. This trend can open the door for brands to meet the needs of busy consumers with convenient, healthy products. Brands also can connect with consumers by showing they care about shared values like humanitarianism and sustainability.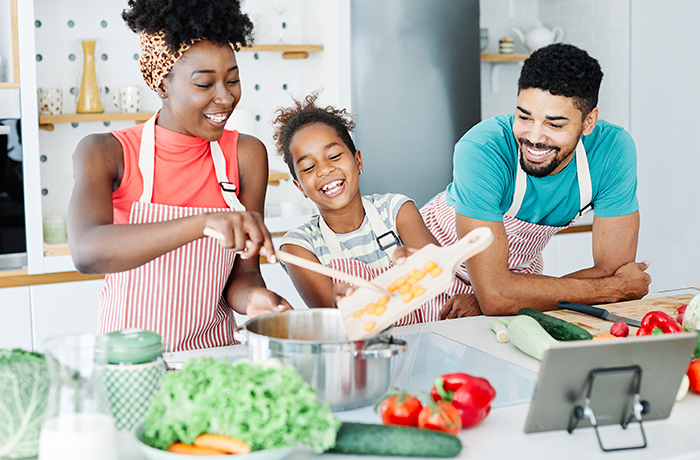 How We Can Help
Trend lists are fun, but how do you practically create products that satisfy these food and nutrition trends? Step one is to formulate with ingredients that deliver the benefits consumers are looking for, and that's where we can help.
We've been tracking the trends and developing ingredients, packaging, and custom solutions that can help you create a successful final product. Just a few of our trends-based solutions include:
TruServ®
Our TruServ® portfolio connects our whole food fruit, vegetable, and greens powders and pieces to USDA-recommended fruit and vegetable servings. You can use TruServ to create plant-based food products with the transparent, trackable serving claims consumers are looking for.
Turnkey Packaging Solutions
Our turnkey packing solutions can help guide you through the process of formulating, packaging, and branding wholesome plant-based food snacks that are also indulgent.
Fire 'n Ice™
Our Fire 'n Ice™ line of fire-roasted IQF ingredients can help you satisfy consumers' desire for healthy snacks and used in hot new products like -based meal kits that are indulgent and innovative. Fire 'n Ice also offers consumers the chance to experience adventure through convenient and accessible ingredients with unique, fire-roasted flavors they might not find in the produce aisle.
Fruit and Vegetable Fiber Complex
Here's your sneak peek at a new line of ingredients coming in 2022! With our fruit and vegetable fiber complex ingredients, you'll be able to tap into the upcycling, plant-based food trends consumers care about, all while helping them meet their dietary fiber needs.
Coffeeberry® Cascara
Our patented Coffeeberrry® Cascara extract is derived from the upcycled coffee fruit. This upcycled ingredient taps into trends like sustainability and plant-based food nutrition.
To learn more about how we can help you develop products that satisfy top food and nutrition trends, connect with one of our sales reps! Together, we can tap into the trends consumers care about. 
1Mintel. "Enjoyment Everywhere – Mintel 2022 Consumer Trend."